It's Fun Simple And Magical - Get Ready To Play Mini Roulette!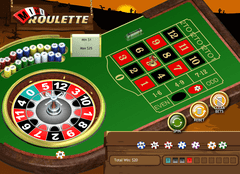 Surprisingly, very few players are aware that there is a different version of Roulette other than the three standards of American, European and French and of course multi-game Roulette. What could that possibly be, surely not another complicated game to learn where one has to study more rules?
No, in actual fact this other version is quite the opposite and was designed for those people that find the game a little difficult to pick up. To be more specific, it's Roulette but not as we know it, and also it can only be played online. It's time for a quick fun introduction to the world of Mini Roulette!
The great thing about playing games online as well as picking up a frequent casino bonus or two, is that the online casinos have the power to easily modify some of the mechanics of Roulette so as to create different Roulette variations. That is a distinct advantage for the possibly confused newcomer still trying to learn the rules.
In the regular game, there are many different types of bets. A lot of people who aren't too familiar with the game, think it is just about placing the chips on a number, and if it comes up then they are a winner.
Although this is true the game goes well beyond that, with many different combinations available where a player can win. For this reason, many players can feel intimidated when trying to get a handle on all the different types of bets along with all the different odds when placing their chips.
The game of Mini Roulette is only played with 12 numbers instead of 35 or 36. As a result although the odds are lower, the rules are dramatically simplified and the frequency of winning is greater. There are no complicated bets, just 'straight up' bets (betting on a particular number), high or low bets, dozen bets, or red or black bets, that's basically it! The games are faster and more fun too!
Now it's been demonstrated the advantages of Mini Roulette, here's an additional tip as well. Now the player really can get their feet under the table and enjoy. Good luck, hope everything gets off to a flying start!